Read Time:
9 Minute, 50 Second
She is one of the most successful British sculptors of the 21st century – a prolific, self-taught artist whose famous client list reads like a who's who of the elite worlds of entertainment, sport, politics and royalty.
The King, the late Queen, the Duke of Edinburgh, the Princess Royal, the Duke of Kent and the Countess of Wessex have all sat for Frances Segelman, also known as Lady Petchey and dubbed the "royal sculptor". And when she exclusively invites hello! into her historic four-storey Georgian home in London, brimming with sculptures and spectacular art and with panoramic views of Tower Bridge and the Shard, the bronze busts of the Queen and Prince Philip that greet visitors in the magnificent marble hallway take your breath away.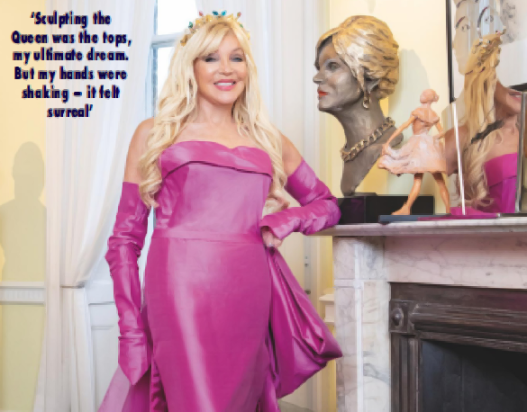 "The Duke was my first royal," says Frances as he stares back at us with a lifelike steely gaze. "He was quite frightening at our first sitting," she admits, recalling her nerve-racking first visit to Buckingham Palace, after the charity London Youth invited her to create a bust in 2000 to celebrate Philip's 50th anniversary as patron.
SCULPTING WITH A SMILE
"At my husband's suggestion, I wanted to sculpt him with a smile," continues Frances, who is married to philanthropist and businessman Sir Jack Petchey. "But he didn't like the idea. 'Certainly not!' he replied. 'I really don't like those chocolate box-type works of art.' "So that was it. He also took exception to the smell of burgers wafting through from the hot-dog stands outside the palace, but by the fourth sitting he warmed up and I really felt like I knew him. He loved his sculpture and I consider it one of my best pieces."
Frances crafted several bronze busts of the Duke, and one can be seen at Buckingham Palace alongside a likeness of the Queen, who sat for her in 2007. "That was the tops, my ultimate dream," she beams. "But my hands were shaking. Can you imagine having to measure Her Majesty's head with callipers? It felt surreal. "What struck me was how beautifully she walked. Her skin was a wonderful colour and her eyes were bright and alert.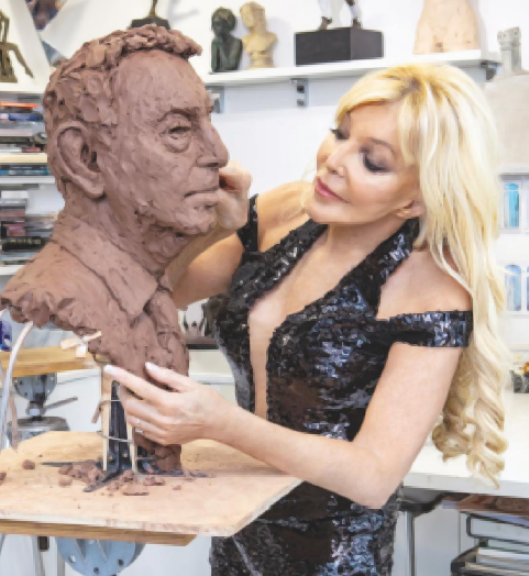 "Before the sitting, I met her senior dresser Angela Kelly to select a tiara and jewellery, which was all amazing and laid out on a table. I chose the Queen Mary's Girls of Great Britain and Ireland tiara because it's dainty but dazzling. To capture the sparkle of the diamonds, I used silver glitter nail varnish because it shines."
SAFETY RULES
The Queen sat for Frances three times in the Yellow Drawing Room at the palace, which overlooks the Queen Victoria Memorial – a view that caused Her Majesty some concern. "She was worried about the safety of the tourists," Frances says. "From where she was sitting, she could see that they were crossing the road to look at Buckingham Palace but weren't taking much notice of the cars. 'What's happening out there? They're not watching,' she said."
Although royal etiquette meant that Frances couldn't directly ask the Queen her opinion of the completed bust, she subtly requested if she would like to make her hair shorter. "Yes, a little," she replied, adding: "But don't fiddlewith itwhen you get it back [to the studio]." "I knew then that she was happy with it," says Frances, who took the opportunity to show the Queen a photo of the bust she'd made of Prince Philip, which was on display in the Palace. "She looked surprised and said: 'Oh my gosh, I haven't seen it. I'm going to look for it,'" the sculptor recalls. "I made different versions of the Queen, and when she knew that one would be placed next to Philip, who was sculpted wearing a shirt and tie, she said that she preferred not to be wearing a tiara next to him. I thought that was amazing."
The bust of Her Majesty created for Barnardo's was unveiled by the then Duchess of Cornwall, who became patron of the charity in 2016. "She loved it and told me it was the best bust of the Queen she'd ever seen," Frances says.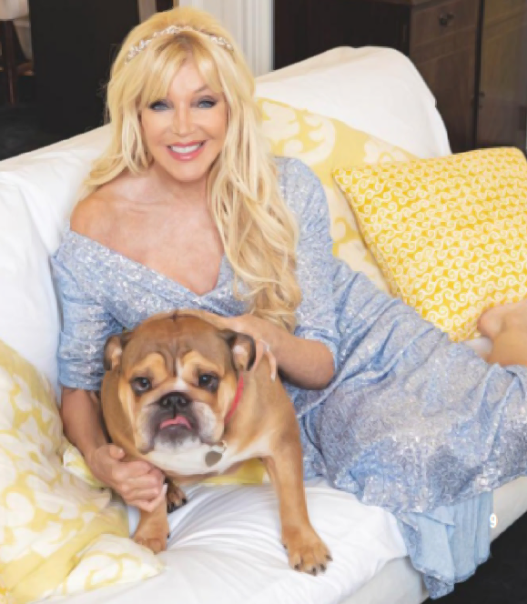 Another sculpture of Her Majesty resides in the Garrison Chapel at Chelsea Barracks alongside likenesses of the Duke of Edinburgh and the King, created when he was the Prince of Wales. Frances sculpted Prince Charles for the Prince's Trust in 2013 in the Orchard Room at Highgrove, his home in Gloucestershire, but recalls how disaster struck on the day she was due to meet him. "It was raining and the moisture in the air caused the clay foundation I'd made in advance to collapse in the back of my car. So I bought rubber gloves and asked the Prince's equerry if I could arrive early to put it back together before the sitting was due to take place," she says.
SENSITIVE SITTER
"I didn't tell Charles what had happened, but he was absolutely delightful," Frances continues. "He came across as sensitive, caring and gentle. He talked about how he was most concerned about the world and its people, the food we eat and looking after the environment. "He sat for me four times and I took lots of photos so that I could work on the bust in my studio in London," she says. "When I showed him one of him in a suit and tie, he said: 'I love the way you've done the face,' and asked if I'd also sculpt him in his ceremonial uniform of the Welsh Guards. That was a first for me. As well as being invited to view the uniform at St James's Palace, one was brought to my home." On a royal roll, Frances has also created busts of the Princess Royal and the Countess ofWessex, who both sat for her at her London home.
NO TIARA FOR ANNE
"Princess Anne was being filmed for a documentary to mark her 70th birthday," she says. "She's a strong, matter-of-fact woman and not at all vain. I tried to persuade her to wear a tiara but she refused as she thought it would take too long. She was coming from one event and going off to another; her life is about duty, with no complaining and just getting on with it. "I sculpted the Countess during the pandemic for Vision Foundation, of which she's patron," says Frances, who is vice president of the charity. "She was so relaxed and natural. We had to sit outside and I wore a visor, which kept steaming up in the heat."
Given her royal credentials, Frances is now looking forward to working with the Queen Consort. "I'm sculpting her too and am very excited about it. I've met her many times and really like her. She's warm and easy to talk to." Among the 200 stars whom Frances has sculpted are Dames Joan Collins and Joanna Lumley. "Joan's a prima donna with amazing bone structure and I love her," she says of the Hollywood actress, who posed for Frances for the Penny Brohn UK cancer charity.
A small bust of Joanna takes pride of place on the mantelpiece in the sculptor's sumptuously furnished living room alongside conductor Sir Simon Rattle, while sculptures including the "bad boy" of ballet Sergei Polunin and a polished steel throne designed by Frances herself are also eye-catching features. However, she recalls how the bust of Joanna, speed-sculpted at an event at the Tower of London, later collapsed in her studio. "I was devastated," she says. "Joanna offered to sit for me again, but I managed to re-create it from photos."
The basement studio where Frances works is reached via a spiral staircase and flooded with natural light. Among the busts are those of Holocaust survivors – she has sculpted 15 so far – and she tells us how she is moved by their harrowing stories. "I'd like to record their voices so that people can hear them as they look at their faces," she says. Unlike the living room, which is bursting with art – including a bust of Sir Francis Drake, part of a collection of works commissioned in 1993 for the former Egyptian room at Harrods – and the walls in the hallway, which are full of paintings and sketches, some created by Frances's artist daughter Victoria, her all-white bedroom is the only minimalist room in the house.
"It's the place where I can truly relax," she says of her light-reflecting retreat, which features shimmering chandeliers and silver furniture. "There's no artwork to distract me and I'll never get enough of the fabulous view of the river, even if I lived here for 100 years."
Despite having no formal training, Frances was destined to find fame and recognition for her work. "At school, art was the only subject I liked," she says. "I was always sketching people's faces, and on holidays made sculptures in the sand." She was 13 when she drew the front of an ancient Greek building, a stunning work of art that now adorns the wall of her sweeping staircase. "I felt as if I was sculpting because it looked three-dimensional," she says. Her inspiration came from artists such as Michelangelo, Rodin and Leonardo da Vinci; in her early 20s after moving to London, the mother of two (now a grandmother of four) attended classes on how to create an armature – the metal framework required to mould clay.
"Sculpting became an obsession," says Frances, who went on to make busts of a spectrum of stars including Olympic sprinter Linford Christie, Pineapple Dance queen Debbie Moore and former Prime Minister Boris Johnson. Her recent sculpture ≠≠≠≠≠≠a former Barnardo's boy, will be donated to the children's charity and is due to be unveiled next month.
BUSTING WITH PRIDE
Taking pride of place on a plinth in her grand hallway is a bust of her smiling husband Sir Jack, whom she met in 1994 and married in 2016. The 97-year-old entrepreneur worked his way up from poverty before setting up the Jack Petchey Foundation in 1999, investing more than £100mto support young people, and in 2016 he received a knighthood for services to charity. "Jack has taught me so much. His ethos is to keep busy and help people," says Frances, who supports the mentalhealth charity Mind and its work to help women suffering from trauma.
With the King's coronation in mind, Frances is staging The Crown, a free month-long exhibition from 27 April at the Grove gallery in London. "I'll be painting HRH in an Andy Warhol-esque style and these pieces will be for sale," she says. "I also plan to sculpt someone live – and would love that to be Stormzy. I'm a huge fan of his music. "I'd also like Olivia Colman, who played the Queen in The Crown, to sit for me one day," she adds. "But of all my experiences so far, the highlight was sculpting the actual Queen. Nothing has topped that yet."