Read Time:
10 Minute, 17 Second
ON Wednesday, November 26, 1947, the aesthete, conservationist and writer James, or 'Jim', Lees-Milne arrived in Yorkshire by train for a visit to Harewood House. As he noted in his diary, he was met at Leeds station by a 'nice, old-fashioned chauffeur, not in livery', driving 'a brand new small Daimler limousine with a large silver owl on the bonnet'.
Lees-Milne was visiting on behalf of the National Trust, following the death of the house's former owner, Henry Lascelles, 6th Earl of Harewood, six months earlier. Jim had joined the Trust in 1936 at a crucial moment in its history. The charity had been founded by Canon Hardwicke Rawnsley, Octavia Hill and Robert Hunter in 1895 and, in the mid 1930s, enjoyed a membership of a few thousand and a staff of about five. All that was about to change, however, in the combined context of growing financial pressures on great country houses—caused by high taxation and falling land revenue— and an increasing awareness of their historic and aesthetic value.
The 1930s had witnessed a revival of interest in Georgian architecture spearheaded, among others, by COUNTRY LIFE. Bombing and destruction began to democratise that taste and the 1940s witnessed a shift in preference away from the Jacobean and Tudor worlds that had been the obsession of late- Victorian culture. The ideal of the ordered Georgian country house and its naturalised landscape began to capture the popular imagination at exactly the moment that they teetered on a precipice of existence.
The government understood the problem facing great country houses, but was averse to getting involved. In the end, however, it played a crucial role in identifying which of these properties merited rescue and made it possible—if their private owners agreed and could offer a suitable endowment—for the Trust to assume responsibility for them.
As secretary of its newly created Country Houses Committee, Jim travelled around the country, visiting owners with a view to managing the bequest of their possessions to the Trust. These activities were interrupted by the outbreak of war in 1939, but resumed in 1942 after Jim was invalided out of the army as result of injury in a London bombing raid. In the meantime, war and requisitioning had further accelerated the crisis faced by these buildings.
A vivid impression of Jim's work and the experience of visiting country houses in this difficult period is conveyed in his published diaries. His professional concern was to assess the interest of these buildings and their contents. As he expressed it on March 18, 1943, 'my loyalties are first to the houses, second to the donors, and third to the National Trust. I've put the Trust last because it is neither a work of art nor a human being, but an abstract thing, a convenience'.
That view would later be echoed in a 1950 government report of defining importance to the subsequent history of the country house. The Gower Report, so called, stated that these buildings 'should, so far as possible, be preserved as private residences occupied preferably by the families connected with them'. Alternatively, it suggested, there should be new owners and uses, or, as a last resort, acquisition by the Trust, although this was understood to reduce their value and interest.
At Harewood, Jim first visited the Georgian estate village, which he admired. There he had lunch with the agent, Mr FitzRoy, and briefly discussed the 75% death-duty bill that faced the family. He was then driven to the house, marvelling as he approached at its landscape setting. The importance of this setting was immediately apparent to him and he noted in his diary 'how important it was that a large area [of land] should pass with the house which is visible from such long distances'.
On arrival, he was shown into the Old Library, where he waited for the widowed chatelaine, the Princess Royal, Mary, only daughter of George V. Just as he was considering how he should greet her, she swept into the room unannounced and shook his hand.
Jim was susceptible to aristocratic grandeur and described his whole visit in unusual detail. He thought the Princess far more beautiful than photographs suggested and described her plain clothing in detail. 'The effect,' he thought, 'is not dowdy, but simple country dress.' The two then spent an hour and a half going around the state rooms of the house, which were just being repaired after wartime occupation by a hospital. Men were sandpapering the floorboards with a machine 'like a tennis court marker' and 'the Princess picked her way through, opening shutters, removing dust sheets and talking affably to the workmen'. One man, however, 'neither removed his hat nor his cigarette' as they passed. Jim 'thought his behaviour abominable'.
It must have been dark by the time they finished their tour and sat down to tea in the breakfast room with two ladies-in-waiting in attendance. Jim carefully sat on the Princess's right-hand side, although she 'kept jumping up to fill the teapot from an electric kettle'. Her dachshund, Bruna, was an object of conversation and his hostess admitted to allowing the dog to lap up spilt milk from a tray for fear of shocking the butler. There were still staff, but, as with the smoking workman, they had to be humoured.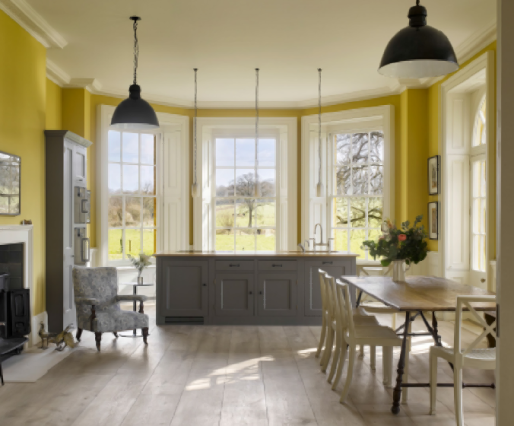 Jim was then taken to the private sitting room to inspect some of the best furniture in the house. He spoke to the Princess about the possibility of coming to an arrangement with the Treasury so that the house could be given to the Trust. In such an event, she wondered how the property might be run. Could she preserve a small strip of terrace for herself and the dog on open days and provide tea for the public in the stable block? The discussion was clearly painful and Jim's diary quotes her conclusion: '"One can get used to anything," she observed rather pathetically.' By then, it was almost time for dinner and Jim descended to his semi-basement room heated with a coal fire. The party met at 8pm in the Old Library for dinner, but there were no servants to wait at the table. Instead, the food was placed on the sideboard and all the guests helped themselves after their hostess,who had precedence. At the end of the meal, the Princess rang the bell for coffee, saying: 'Now, what is the betting that they won't answer it?' No one came. Nor did her son have any more success rousing the servants. Coffee must eventually have arrived, however, because the company then sat in the Old Library until nearly midnight.
Next morning, after breakfast, Jim was briefly left to his own devices, before, at 10.30am, he began a thorough survey of the contents of the house with the Princess. 'Together we pulled off covers, compared the suites of furniture, examined ceilings, pier glasses, door-locks and handles, chimneypieces, carpets and pictures, about which she knows a great deal. We went into every bedroom and bathroom… Rather wistfully she kept saying, "I do hope I shall not have to sell this…" We even descended into the cellar to examine the China.'
This detailed connoisseurial inspection of Harewood illustrates a wider change in the perception of a country house that was shared both by the owner and the specialist involved: that a building and its accumulated contents were part of a coherent artistic creation greater than the sum of its parts. This is an understanding that still resonates today, although it's a good deal less fashionable than it once was. It helps explain, moreover, why—under the financial difficulties of the moment—the Trust grew to be such a massive institution. That said, to a striking degree, it was unmarried and childless owners who proved to be its most generous benefactors. By contrast, most houses—including Harewood— survived in private hands. Indeed, although the threadbare grandeur described by Jim has captured the popular imagination, the post-war story has actually been one of slow recovery followed by remarkable success. In the aftermath of the war, these buildings looked like relics of a discredited order, expensive to run, comfortless, outmoded and often in poor physical condition following requisition. Large numbers of country houses were massively reduced in size or completely demolished. Some were even replaced so that a convenient new building designed to modern standards could take advantage of its predecessor's parkland setting.
The financial imperative for such changes tends to receive emphasis, but there was an equally important practical reason for change as well. After the war, live-in servants all but disappeared from domestic life. At the same time, further encouraging the change, technology made much easier and cheaper many of the tasks they had once performed.
Without servants, formal life effectively became impossible. In response, there gradually came into being a new heart to the country house: the kitchen/living room, a space to which the family could retreat to cook, eat and relax in comfort. It could either be opportunistically created within a historic room or realised as an extension. In either case, it had the effect of creating a completely new mode of life, in which one room in the house dominated all others in the daily regimen.
The kitchen/living room has gone from strength to strength, Aided by the increasingly sophisticated design of kitchens and their associated labour-saving technology, they have come to exemplify stylish living in the 21st-century country house. In most cases, the physical division between this space and both the entertaining rooms and bedrooms has been maintained. There are examples, however, of buildings in which all the functional spaces of a house have been integrated together.
Today, the image of the country house as a historic building commands the popular imagination, not least as a consequence of the filming of so much historic drama in these buildings. Nevertheless, there has also been a resurgence in the creation of new country houses. In stylistic terms, some are strident essays in Modernism and make extensive use of glass. Others evoke more distant historic forms.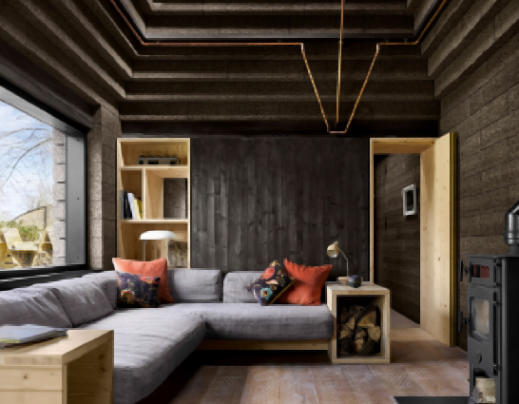 Despite the striking visual contrast between these two groups of buildings, in terms of treatment and conception, both, in fact, share much in common. Great attention, for example, is often given to the quality of the materials used, with a particular emphasis on natural, local and long-lasting materials. In this last respect, it's worth noting that most people who own or build country houses conceive of them as family homes that their children will inherit. Similarly, the relationship between modern country houses and their setting is carefully considered. Large expanses of glass are often used to open out views and create light-filled interiors.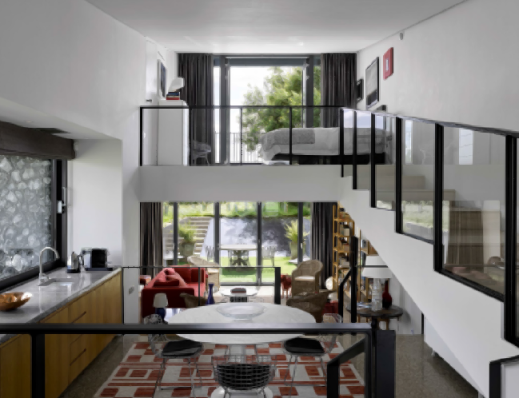 Interest in sustainability has also encouraged experimentation with new heating systems and unusual building materials, occasionally to dramatic visual effect , All houses, meanwhile, make use of very similar technology to create en-suite bathrooms, as well as film rooms, gyms and myriad other specialist spaces that reflect the enthusiasms of their owners.
The main stair of Downley House, Hampshire, completed by Birds Portchmouth Russum in 2012. The glass rails of the staircase open up the space
PPPPPPPPPPPPPPPPPPPPPPPP
For the purposes of this series, the long story of the country house has been broken up into segments of time. This is a helpful approach, but also a deceptive one, for the simple reason that, whatever the date of its construction, every house that COUNTRY LIFE features is also a contemporary building by virtue of its continued use and survival. That, in turn, underlines the sheer variety of these buildings today and—hopefully— tomorrow as well.