Read Time:
3 Minute, 30 Second
LIKE OKUK, the Mauritshuis in The Hague is famous for its frontispiece. Unlike us, however, it has only one Girl with a Pearl Earring , so her absence until June, during her visit to Amsterdam to star in the Vermeer exhibition at the Rijksmuseum, could have been a difficult time for the museum, but staff have come up with an imaginative way literally to fill her space.
People come from all around the world to see her and the Mauritshuis receives numerous drawings, self-portraits and other creative responses to the Girl: 'As a museum, we are of course mad about collecting, so we have launched the Instagram account @mygirlwithapearl so that we can share the most remarkable versions of the painting that we receive,' it proclaims.
More immediately, it is appealing to everyone worldwide to submit an image of their take on the Girl for a chance for it to be hung in her place in the gallery (www.mauritshuis.nl/mygirlwith apearl). Your Girl does not have to be female or, indeed, human. 'All (art) forms are allowed: a photo, a drawing, a painting, sculpted, embroidered or knitted, as long as the image of your creation is sent digitally to the museum,' states the website. Entrants need to complete the form and upload their image before January 15. It would be a travesty if there were no OKUK readers among the chosen.
Another early warning: if you would like to improve your drawing skills and are likely to be spending time in France this spring, you might wish to investigate an extensive programme of exhibitions, workshops, performances, conferences and meetings related to contemporary drawing, which will be taking place across the country (March 20–June 21). Le Printemps du Dessin is a product of the enthusiasm created by the Drawing Now Fairs for contemporary galleries at the Carreau du Temple, Paris (March 23–26) and the Salon du Dessin for older work at the Palais Brongniart (March 22–27). Email info@printemps dudessin.com to enrol before January 9, 2023.
On this side of the Channel— just—Hastings Contemporary in East Sussex is showing 'Cloud falls in love with mortal', an exhibition of impressive graphite drawings by Penny McCarthy , which were inspired by a newspaper photograph of a Fata Morgana mirage over the sea (until March 12). Ms McCarthy is a Sheffield-based artist whose work covers a whole range of emotions and themes, such as we might see when we stare at a cloud, for example.
In 2019, she was the winner of the biennial Evelyn Williams Drawing Award, which was set up in memory of my late neighbour Evie Williams (1929–2012), whose work was truly unlike that of anyone else. The critic David Lee put it very well: 'A more personal, intimate, whispered, less institutional art, I have never seen.' That said, Ms McCarthy's drawings would have spoken gently and insistently to Evie.
The £10,000 awards are administered by a trust (in conjunction with Drawing Projects UK), which, to raise funds, recently entered three of Evie's paintings for Rogers & Jones's Welsh sale in Cardiff. Two of them contributed £3,349 and £2,705 to the pot. These were the 48in by 60¼in Remember Me, dated 2005, and the 48in by 36in Apparition of 2002 . The third was the striking, but rather more unsettling composition— Evie certainly could unsettle— Gust of Wind. Departure No. 2, and it was bought in. Three of her works from other vendors included in the sale made slightly lower prices and I would suggest that she is well worth looking out for, especially if the proceeds are going to the admirable awards scheme.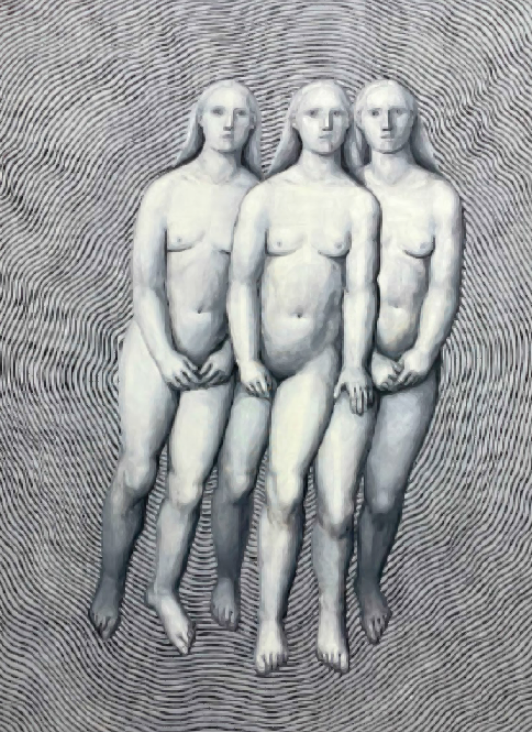 Next month, I shall be looking forward to more of the art-world happenings scheduled for 2023— in hopes that there will be none of the disruptions that have plagued recent years.