Read Time:
4 Minute, 44 Second
In February 2021 Winchcombe was struck by one of the few meteorites to land in Britain, yet this was just the latest significant event to occur in the Cotswolds town's fascinating history, which stretches back to Neolithic times. The history of Winchcombe is writ large all over and around the town. There's the 5,000-year-old Belas Knap burial mound on Cleeve Hill; marks from Civil War bullets can be seen in St Peter's belfry; and stones from buildings constructed during the Anglo-Saxon King Coenwulf's time are thought to have found their way into the walls of many of the town's buildings.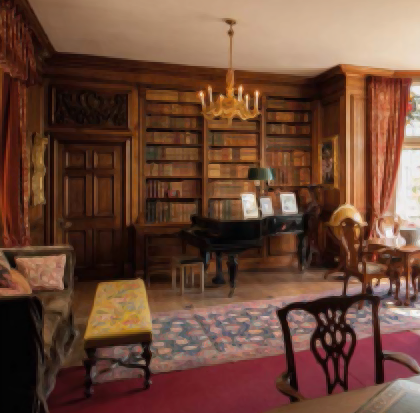 Winchcombe's main historical attraction, though, is Sudeley Castle, which stands like a well-groomed guardian on the outskirts of town. Dating from 1443, not only is Sudeley one of Britain's most picturesque castles,but located on the site of an earlier building, it has played an important part in our nation's story for over 1,000 years, having hosted Henry VIII, Anne Boleyn, Elizabeth I, and Richard III at various points. In fact, it is the only private castle to have a queen buried in its grounds, as Henry VIII's sixth and final wife Katherine Parr lies entombed in the castle's 15th-century church.
Not all of Winchcombe's intriguing sights are as easy to find as Sudeley – you need to walk for about an hour southeast of the town to reach Spoonley Wood, which hides the remains of a Roman villa. There's no entry fee to visit the villa, all you need to do is follow a small path through the undergrowth until you get to a low building – you'll feel like Indiana Jones as you uncover a Roman mosaic beside 1,700-year-old walls. You may not, however, want to stray far from Winchcombe's top-notch tearooms, nor its thoughtfully stocked shops, such as artistrun Swift Studio, where you can pick up handcrafted local gifts. You'll want to pay a visit to the aforementioned St Peter's church: as well as being battle-scarred from the Civil War, it's adorned with glorious gargoyles, one of which is said to have inspired Lewis Carroll's Mad Hatter.
Having survived marriage to King Henry VIII, Katherine Parr was betrothed to Sir Thomas Seymour and made Sudeley Castle her home. A young Lady Jane Grey became Parr's attendant here, but only for a brief period. Parr passed away in 1548 and is buried in the castle's chapel which, following the Civil War, became lost to nature. A group of sightseers happened across her burial place in 1782 and though the chapel suffered further neglect, in 1863 Sir George Gilbert Scott built a chapel worthy of the queen's remains, and which the public can visit today.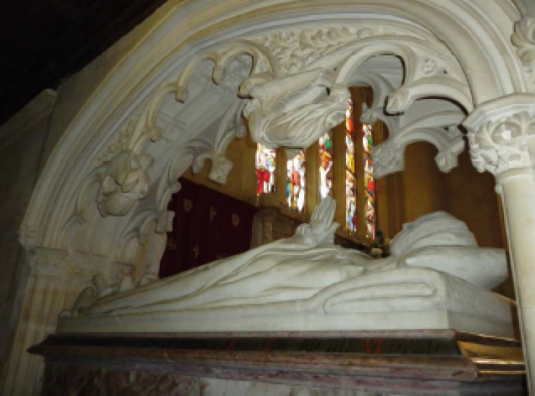 For a relatively small town, Winchcombe has a good choice of accommodation. Above The White Hart Inn are clean, comfortable rooms with views over the hills. A few doors down is Wesley House (the 18th-century preacher John Wesley stayed here a couple of times), which was once a 15th-century merchant's house, but now has a superb restaurant and good value rooms, one of which has a lovely terrace. There are also some good self-catering choices, from five-bed homes along the River Isbourne, to boutique cottages on peaceful Bull Lane.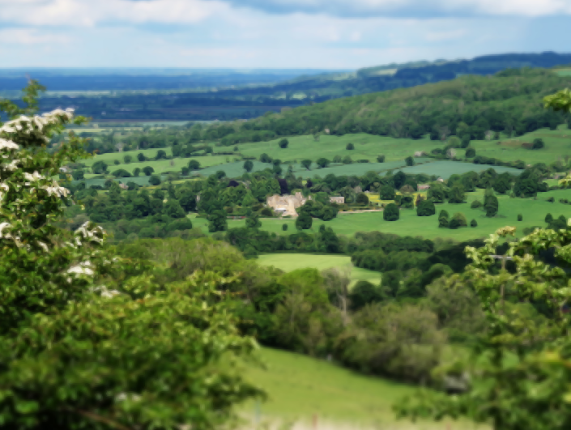 On that steep walk up to Neolithic Belas Knap (part of the Cotswold Way) be sure to turn around and take in the view of Winchcombe surrounded by hills, which are covered in forests and farms. See if you can spot Sudeley Castle and the giant gold weathervane on top of St Peter's church. If that sounds too strenuous for you, there's another sublime scene for your camera. Head to where Vineyard Street emerges onto the High Street. From the other side of the road, you'll be able to take in the view of Barton House and its grand church-like windows, with the cute, terraced houses of Vineyard Street and the forested hills beyond.
Several long-distance trails – ranging from 14 to over 100 miles long – meet at Winchcombe. This town is connected in many more ways than trails, though. You can also take steam trains to nearby Broadway, or a bus to Chipping Campden. Both give visitors a quintessential Cotswolds experience, with gorgeous architecture and plenty of tearooms. If you've come by car, the village of Lower Slaughter is a short drive away and comes with scenery so picture-perfect you'll wonder if it was created by Disney. But that mill really did once grind corn, and it was fed by that idyllic stream gliding elegantly past those cute cottages. Got a taste for idyllic streams and cute cottages? Just beyond Lower Slaughter is Bourton-on-the-Water, where numerous beautiful bridges stretch idyllically across the River Windrush.
Mystery abounds in award-winning author Lesley Thomson's book The Death Chamber. Set in Winchcombe, it is infused with first-hand knowledge of the town, plus so many thrills that you'll need a pot of tea from Honey Bea's Cafe just to calm yourself down afterwards. A cornucopia of Winchcombe info, winchcombewelcomeswalkers.com details short and longer walks around town, and provides suggestions on where to eat,what to see, and a directory and descriptions of Winchcombe's independent shops.