Read Time:
13 Minute, 4 Second
THE EARLY hours of Sundays are quiet in small towns pretty much all over the world. It's a time for washing the car, having breakfast in bed, sauntering to church or taking the dog for a stroll in the sunshine as the church bells chime in the distance.
Even the local police station isn't usually busy, as the officers take a breather after whatever the Saturday night has brought in. It's just as true in Monroe, North Carolina, as it is anywhere else. South of the city of Charlotte, the population of 26,000 still likes to think of it as having a village atmosphere. Its network of flea markets and art galleries featuring local artists have given it a bohemian ambience that's proved increasingly attractive to those wishing to escape the hustle and bustle of the nearby metropolis.
But on the Sunday morning of August 18th, 2019, that peace was about to be shattered beyond belief. It was a typically sunny, sticky, summer morning, and dispatcher Tom Smith, who worked in the Sheriff 's Office of Monroe, was gearing up for the day ahead. He was mildly surprised to have his morning routine interrupted when a man walked calmly into the office and spoke to him. At first, nothing seemed amiss.
"I glanced up from my Perspex window and I could see the guy seemed calm," recalled Tom. "He wasn't armed and didn't seem threatening in any way. But he had this kind of fixed, vacant stare in his eyes which was a little unnerving and then he started talking to me."
His edginess about the visitor soon proved to be eerily correct. "I didn't think this was going to be any big deal," Tom continued. "He was quiet and in control and didn't seem stressed. He told me he lived on the 5100 block at Hampton Meadows Road, off Airport Road in the south of town, and that he had walked from there to the office to make a confession." The man's name was Joshua Burgess, and he was 32 years old. He was about to admit to a crime that would shake the entire state to its foundations. "He said it would be a good idea to take him to his house," said Tom. "I asked him why and he said there was a body there, a young girl, and she was dead. He said the body hadn't been moved and was still in the house and there was no one else there."
Not surprisingly, Tom was starting to be very concerned about what he was hearing. "I asked him for his name so I could search for any possible arrest warrants, but he said his name wasn't in the system because he'd never been arrested and he had just killed someone." Tom was surprised, to say the least, but did his best to treat everything as calmly as possible.
"I cuffed him and locked him in an interview room. I didn't at this point think he was doing anything but telling the truth. I mean why would anyone walk in to the Sheriff 's Office and make a confession like that if it wasn't true? I called the detective on duty that morning and he quickly organised a team to go over to the address and check this out. "A team raced round to the property and we also alerted a SWAT team to be on standby." When officers arrived at 5100 Hampton Meadows Road, they were horrified at what they found. Sure enough, there was a girl's body. She turned out to be 15-year-old Zaria Burgess, Joshua Burgess's daughter. While the neighbours slept, or readied themselves for morning church, Joshua had tied up Zaria's wrists, gagged her to prevent her from screaming, and brutally beaten her on multiple occasions, before slitting her throat. According to the autopsy report from the medical examiner, Zaria died as the result of a sharp force injury to her neck. She had multiple bruises all over her body after she'd been tortured and sexually assaulted multiple times.
Burgess had raped her, stabbed her in several places on her body and slit her throat so deeply it had completely severed the carotid artery. And the pattern of bruises, as well as the way some were clearly fresher than others, showed that she'd been tortured for almost a full day. Yet the most shocking fact of all came from the DNA taken from the semen found in her body after the sexual assaults. It was her own. So the only person who could have treated her in such a horrifyingly inhumane manner was Joshua. Her own father. "We know how she died but we don't know the whys," a visibly shocked Detective Tony Underwood told reporters. "It's a mystery as to why this happened, and the shocking nature of it being his own biological daughter.
"The only word I could use was evil, it was just evil. I mean murder is murder, but to kill your own flesh and blood like this, there is just no way to explain it other than it's just an evil crime. I have teenage daughters of my own and I can't fathom how a father could do this, and I don't think I ever will." "If he is guilty, then any right-minded person would feel that if anyone deserved to be sentenced to death it is this man," he added. Yet all this had happened so quietly that the neighbours didn't even know they were there. Some told police that they didn't know anyone was living there, while some thought the property was actually abandoned.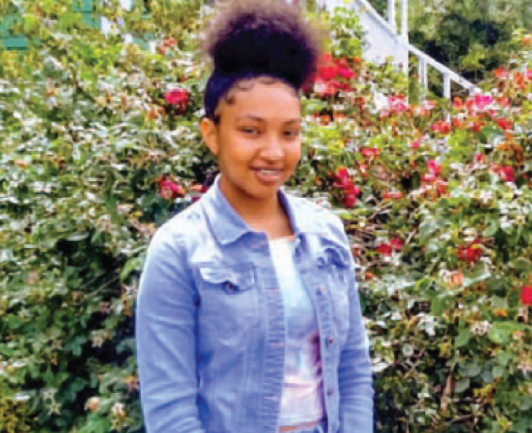 How wrong can a neighbour be? Despite what he'd initially told Tom Smith after strolling into the Sheriff 's Office that Sunday morning, Burgess was no innocent. He actually had previous convictions for common-law robbery and larceny of over $200, but these were minor felonies. Nothing to suggest what he would subsequently admit to being responsible for. Nor why.
Officers would not say what the motive for such a heinous crime could be, and nor would Burgess himself. He may have freely walked into the office and given himself up, but he offered no explanation as to why he would do such a thing. One theory was that he had connections with white supremacist groups, as officers found information about them when they searched his computer. But there was no concrete proof of anything. Zaria was mixed-race, but then that meant Burgess had fathered her with a black woman. So there was nothing to suggest that race could have been the reason for Burgess to have behaved as he did. Besides, Zaria was 15 – if race was the reason, why had Burgess left it so long? While detectives continued to investigate, Zaria's family naturally struggled to come to terms with the loss of such a young girl.
"She was the type of kid to come into a room and the room would light up because she made everyone smile," said her cousin, Dyatasha Wadsworth. "She was so young, and nobody deserves to leave this world like that, especially by someone they thought was going to protect them and be there for them." Slowly, a picture of a popular, gentle girl came through. Zaria was a rising sophomore at Monroe High School. She was a member of the school marching band and dance team, had lots of friends and was doing perfectly well at school. There were no signs of anything amiss in her behaviour, nor that anything could be wrong at home. Her family said that she was a kind girl who loved her family, and volunteered to help the elderly living in her community by doing their shopping or walking their dogs.
That weekend, she had been staying with her father because her mother, who normally looked after her, and officially had sole custody of her daughter, was visiting friends and family in Georgia. Burgess and his partner had never married, and weren't especially close, but they lived close by and it wasn't the first time that Zaria had stayed over with her father. Anyway, those previous visits had passed uneventfully – there were no reported incidents of any kind, and no warnings of any trouble between the daughter and her father.
"The details of this murder are indescribable and shocking," said Union County Sheriff Eddie Caffey to a local TV news station. "Every officer and detective involved in this case is feeling the effects of what happened to this child. "There is no logical answer to explain why this man did what he is accused of doing. Our hearts and prayers are with Zaria's mother and family. "Calling her [mother] to tell her she had to return to Monroe from her trip down south as soon as possible after what we thought had happened to Zaria was the hardest thing I've had to do in my 20-plus years on the force."
At a candle-lit vigil for Zaria, held a week after her death, her school head, Principal Mike Johnson, spoke about the teenager he had known in school. "She was an outstanding cheerleader who put her heart and soul into everything she did," he said. "Her teachers loved her, she never caused any trouble and was doing well in all her subjects. "She was bright and bubbly and always kept her team-mates laughing and their spirits high. She had everything to live for, and such a bright future. It's impossible to reconcile this awful end to her life with the happiness and love she had spread in her all-too-short time on this earth."
"She was always here every day," said her dance teacher and band director, Alan Sturdivant. "She was so exuberant when it came to classes and practice. She would always say, 'What time do you need me to be there and I'll make sure I'm on time,' and 'What do I need to do?' "We are having a colour day in her honour, and all the kids in the school want to wear blue. There will be a minute's silence and a balloon release and then the band will play her favourite song, 'Velvet Rope.' Our dance team will now be called Red Diamonds because red diamonds are so rare. We know diamonds are forever, so her spirit is going to live with us forever." As time went on, almost everyone involved in the case found it difficult to believe what they had to contend with.
At a preliminary hearing for Joshua Burgess, there were audible gasps from those in the courtroom when officials revealed that he'd raped and strangled Zaria before slitting her throat. And when the three-week trial began, the judge warned the jury that they would see photos and hear evidence that they would find deeply upsetting.
The prosecution began the trial by asking that Burgess be manacled throughout the trial for fear that he would be "acting out." They maintained that Burgess, whenever he had been interviewed, never once denied what he'd done. In one, he said that his motive was all about "power and control."
His defence lawyer, a public defender, attempted to get the confessions ruled as inadmissible – as they had already been extensively reported in the media, the attorney tried to argue that it would be impossible to get a fair trial as a result. But the judge over-ruled him. The next ploy was to suggest that Burgess had been suffering from temporary insanity when he'd tortured, raped and killed Zaria. However, he had no history of mental illness, and wasn't on any medications that could have affected his mood. What's more, a urine test showed that he was free of alcohol and drugs, so he hadn't been acting under the influence, either.
An observer noted that the jury's faces grew paler and paler with every day of evidence they heard. Barely able to bring themselves to look at Burgess throughout the trial, by the end, their decision was swift and clear. In less than three hours, they found him guilty of first-degree murder, along with other charges of statutory rape, first-degree sexual exploitation of a minor and three counts of statutory sex offences. They also showed no mercy, recommending that he be given the death penalty. The judge could find no mitigating circumstances. In fact, he said that it was the most depraved, shocking and inexplicable crime he had ever come across in all his years on the bench. In addition to sentencing Burgess to death, he added a minimum of 76 years behind bars in connection with all of the other offences.
So even if Burgess somehow manages to have his death penalty commuted, he will spend the rest of his life in jail. Whatever happens to him, though, sympathy for his plight will be in very short supply. After sentencing, the Union County District Attorney's office issued a statement.
"Joshua Burgess stole Zaria from her friends, family and local community," it read. "This was truly an especially heinous, atrocious and cruel killing of an innocent child. This case was emotionally taxing for everyone. While we know Zaria is forever gone to us, we hope that the verdict helps to bring some closure to Zaria's family and friends, and we will continue to keep them in our prayers each day."
The chances of Joshua Burgess ever actually meeting his end at the hands of the state are slim. The last time that North Carolina actually executed someone was in 2006. Samuel Flippen had been found guilty of murdering his two-year old step-daughter Britnie Hutton in 1994. His death sentence was overturned on appeal because at his trial, he'd been convicted on entirely circumstantial evidence, and he had no prior convictions. However, at a second trial, the jury returned the exact same verdict, and once again recommended the death penalty. This time, the North Carolina Supreme Court upheld his conviction, and he was executed by lethal injection.
In the 16 years since, there has been a de facto moratorium on executions in North Carolina, and those on Death Row haven't so far faced an official end. The longest gap between executions in the state was between 1962 and 1983, when the death penalty was banned.
Whether Burgess is eventually executed or not, he's actually safer on Death Row in North Carolina's Central Prison than in the general prison population – he would need special protection, as other lags don't look kindly on fathers who rape, torture and murder their own daughters. If he does eventually face his final day, it is most likely that he will receive a lethal dose of phenobarbital. The drug is often used to treat insomnia and anxiety, but it is a widely used method of execution in many of the US states who have the death penalty.
It will certainly be a much quicker, more humane and less painful way to die than the unimaginable tortures he inflicted on Zaria, his own daughter, for roughly 22 hours before she finally died.