Read Time:
4 Minute, 15 Second
Madame Blanc Mysteries creator, writer and star, Sally Lindsay, reveals how she moved out of her comfort zone to get it of the ground
Feel the Fear and Do It Anyway, is the title of a well-known Eighties self-help book – the basic premise being, 'Take risks even though you might be apprehensive… it's good to challenge yourself'. Former Corrie actress Sally Lindsay certainly took this advice to heart when she initially went to Channel Five with an idea for her whodunnit series, The Madame Blanc Mysteries. "I'd co-devised the police drama, Scott and Bailey, with my friend Suranne Jones but I'd always wanted to actually have a crack at writing TV scripts," she tells us over Zoom from her 'work shed' at the bottom of her garden. "After Channel 5 said they liked the idea, I was wondering about scriptwriters but then I thought, why shouldn't me and my writing partner, Sue Vincent, who's also an actress and stars in Madame Blanc, have a go at it?"
A risky business! Couldn't it all have gone horribly wrong? "True," agrees Sally, "but it was something I'd always dreamed of. My ambition, if you like. Sometimes you have to push yourself, take risks and do things that are a challenge. And it was a challenge – still is at times. When I'm struggling with it, something I've read about Dawn French comes to mind. When she was writing her first novel and was finding it difficult, she likened it to a baby learning to walk. When a baby falls, they get up again and carry on doing so until they're steady on their feet. Dawn said it was the same with writing – you keep on practising until it starts coming naturally and you finally get it right!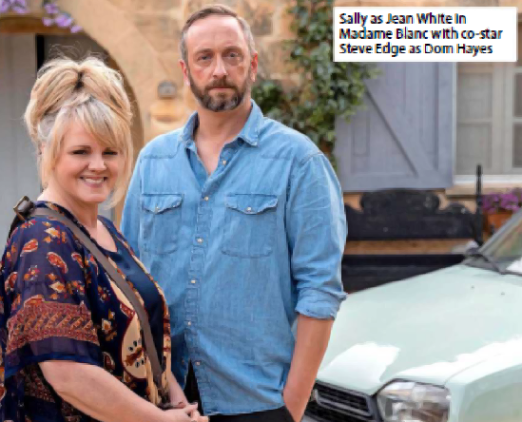 I'm not very good at blowing my own trumpet but I'm just so proud of this world me and Sue have created. To be acting in a murder mystery – absolutely the kind of telly I like to watch – which I also devised, co-wrote and which has proved to be so popular we got commissioned for a second series…. it's like all my Christmases have come at once.
Speaking of Christmas, there's a festive episode of Madame Blanc in December. Sally enthuses, "It's filmed in Malta and it was high summer when we did it but you would never know it. The art department surpassed themselves. There are Christmas trees, loads of decorations, a choir, presents and lots of emotion. There's a stonking good mystery at the heart of it, too. "The first time I saw the Square which we film in 'dressed' and ready to start shooting. . . Well, there was such a lump in my throat. There was a 35ft tree in front of the beautiful church there. It was the picture I'd had in my head come to life and such a special moment." We're thinking that Sally's most definitely a Christmassy person. I love everything about it! she confirms. Even when I had baby brain fog after the birth of my twin boys, who are now 12 but only three months when it was their first Christmas, I still had the tree up and everything in the house all Christmassy.
You might say I go to town. We have our family traditions – me, my husband Steve, the twins and my two older step-kids. We have an 'Elf' Day every year where we sit around in Elf hats and watch the film Elf together.
"We eat loads of stuff we shouldn't – all the food groups go to pot! And on Christmas Eve, we have this slightly weird tradition of going to our local curry house and then coming home to watch the Jim Carrey version of 'A Christmas Carol'. I love that story – it sums up Christmas for me. The Jim Carrey one is my favourite, although I've watched all the adaptations and like them all – even the Muppet one! "This Christmas will be extra special for us because we're spending it with my mum and stepdad in Manchester for the first time in ages as Covid put paid to that over the past few years. My brother will be there, too. We'll be driving up on Christmas morning – just like we used to. I'm so excited. Christmas telly is also on the festive agenda, it seems.
I think Christmas TV is like a gift to the nation, says Sally (49). You switch it on and there's all this fabulous stuff to watch – whatever you fancy. It is like a present to us all. And we need that now, don't we? We all know it's going to be a bleak mid-winter this year but at least we can snuggle up on the sofa under a blanket and watch a bit of escapist TV. What will I be watching? A Death in Paradise Christmas Special, The Larkins… And the Madame Blanc Murder Mysteries? Sally laughs. That goes without saying!