Read Time:
4 Minute, 2 Second
AS ELIZABETH DEBICKI PLAYS DIANA 'THE CROWN' CRITICS ACCUSE NETFLIX'S HIT SHOW OF 'LIES AND HALF-TRUTHS'
Elegant in a figure-hugging red dress during a Mediterranean holiday with her sons, this is Diana, Princess of Wales as seen in an upcoming series of The Crown. In scenes being filmed in Majorca for the sixth series of the Netflix drama, Australian actress Elizabeth Debicki bears an uncanny resemblance to the Princess as she re-creates her 1997 cruise, during which Diana and Princes William and Harry, played by Rufus Kampa and Will Powell, were welcomed onto then Har rods owner Mohamed Al-Fayed's yacht, Jonikal. The series will also depict Diana's relationship with the businessman's son Dodi and their final holiday on board Jonikal before their deaths in a car crash in Paris.
However, while 'THE CROWN' events leading up to the accident and its aftermath will be covered, Netflix says the crash itself will not. But its decision to portray Diana's final years has been criticised, with her elder son the Prince of Wales said to be angry over the dramatisation, particularly the re-enactment of the Princess's appearance on BBC1's Panorama with Martin Bashir, who was later found to have used fake documents to win her trust.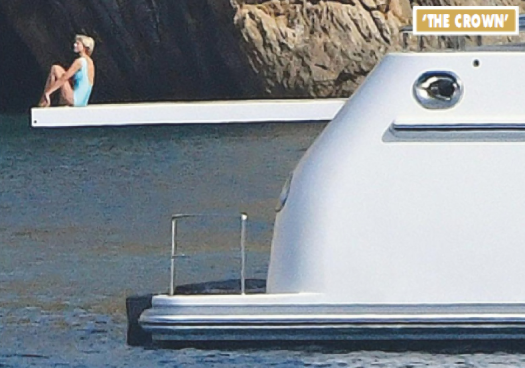 Speaking in 2021, after an inquiry uncovered the deception, Prince William said the BBC's interview held "no legitimacy" and "should never be aired again". The Prince also talked about his "indescribable sadness" over how it had contributed to the "fear, paranoia and isolation" Diana felt in the final years of his life.
Netflix has also come under fire ahead of the fifth series of The Crown, which starts streaming on 9 November. Covering the events of 1991-1996, it focuses on the breakdown of the then Prince and Princess of Wales's marriage and Prince Charles's relationship with Camilla Parker Bowles. Insiders say that following the death of the Queen last month, the series could not have come at a worse time.
MALICIOUS FICTION'
Meanwhile, Sir John Major, who was Prime Minister during those years, has branded one storyline "a barrel-load of nonsense" and "malicious fiction". The 79-year-old former politician spoke out in response to reports that the show depicts Prince Charles, played by Dominic West, lobbying the PM to persuade the Queen, portrayed by Imelda Staunton, to abdicate so he can become King.
"Sir John has not co-operated in any way with The Crown. Nor has he ever been approached by them to fact-check any script material in this or any other series," said a statement by his spokesperson. "Discussions between the monarch and Prime Minister are entirely private and – for Sir John – will always remain so. But not one of the scenes you depict are accurate – in any way whatsoever. They are fiction, pure and simple. "There was never any discussion between Sir John and the then Prince of Wales about any possible abdication of the late Queen Elizabeth II – nor was such an improbable and improper subject ever raised by the then Prince of Wales (or Sir John).
Former Ar chbi shop of Canterbury the Rt Rev. Lord Carey of Clifton has criticised a scene in which the Queen discusses her "parental failure" following the breakdown of three of her children's marriages. "It bears no resemblance to any conversation I ever had with the Queen," he said. There is also anger over a scene in which Charles tells his mother: "If we were an ordinary family and social services came to visit, they would have thrown us into care and you into jail."
NO RESEMBLANCE' TO FACT
Broadcaster Jonathan Dimbleby, a friend of the King, said the show was "nonsense on stilts", while the Queen Mother's official biographer William Shawcross said it was "filled with lies and half-truths". He added: "It is astonishingly and deliberately hurtful to individual members of the royal family, public servants who cannot answer back." Meanwhile Oscar-winning actress Dame Judi Dench – a friend of the Queen Consort – called the show "cruelly unjust". She added: "The closer the drama comes to our present times, the more freely it seems willing to blur the lines between historial accuracy and crude sensationalism."
A spokesman for Netflix said: "The Crown has always been presented as a drama based on historical events. Series five is a fictional dramatisation, imagining what could have happened behind closed doors during a significant decade for the royal family – one that has already been scrutinised… by journalists, biographers and historians."
Buckingham Palace declined to comment.