Read Time:
10 Minute, 37 Second
KIMBERLY WYATT AND MAX ROGERS TREAT US TO SOME EXCITING NEWS AT THEIR 'FOREVER HOME' – EXCLUSIVE INTERVIEW AND PHOTOS
Showcasing a collection of spooky pumpkins on their dining room table, Kimberly Wyatt and her husband, the model Max Rogers, welcome hello! into their beautiful home in Surrey, to share all the fun of their family celebrations in the run-up to Halloween. "Growing up in America, it was one of my favourite times of year," says singer, dancer and member of the world-famous US girl band The Pussycat Dolls, in this exclusive interview and photoshoot.
As their three children – Willow, seven, Maple, five, and three-year-old Senna – proudly reveal their hand-carved creations, which include a googly-eyed green-legged pumpkin spider, she adds: "So I've brought over the Halloween traditions I enjoyed for my little ones. We all dress up and go trick-or-treating at a friend's house. He calls his neighbours and asks: 'If we ring your bell, will you answer it?' Then we bring them candy."
SUSTAINABLE LIVING
"We live near a farm where you can pick your own produce and it's part of our Halloween routine to take the kids to see the pumpkins growing," says Max, who has starred in campaigns such as Dolce & Gabbana and Tommy Hilfiger, was a judge on Sky Living's Britain's Next Top Model and, like Kimberly, is represented by Storm Model Management.
"In fact, this farm is one of the reasons we moved here six years ago. It fits in with our mission to lead a sustainable lifestyle, and is a great place to take the children to show them how fruit and vegetables grow." Brimming with character, the house in Weybridge, which the couple describe as "an ongoing project" and their "forever home", is an eclectic mix of old and new. At its heart is the beamed, flagstone-floored kitchen dating back to 1799, and its Aga and oak work surfaces are where Kimberly, who was crowned Celebrity MasterChef winner in 2015, prepares healthy organic meals with Max. In the corner, a red, white and blue Smeg fridge provides a modern pop of colour, while the children's drawings pasted all over one side serve as a reminder that this is first and foremost a family home.
Leading off from the kitchen is the Georgian dining room, with walls painted in rich teal – the colour of the couple's 2014 wedding palette – and in the 1930s rooms that surround it, including a hallway with a stained-glass window, Kimberly has made her stylish mark with a decor that comes in shades of soft sage green, soothing blues and vibrant emerald. "I go on a feeling and am drawn to colours that make me feel hygge – a sense of comfort and calm," she says. "We have such long periods of grey weather here, so what we've put into our home makes it feel cosy on those days and has been a leading factor in [our] choices.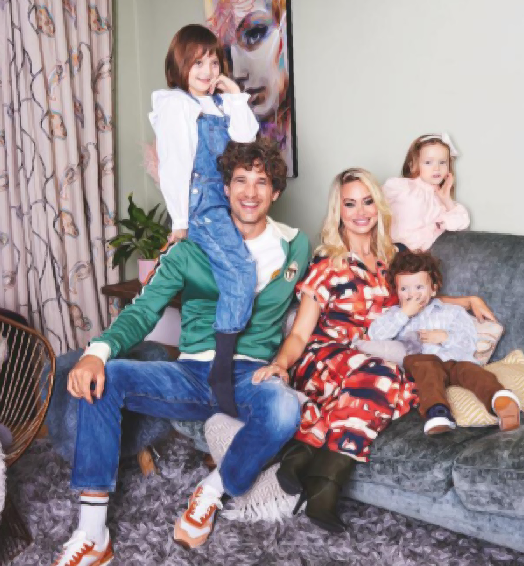 "What we loved about the house when we moved here is that it felt like an adventure, and it still is. Max and I aimed to build our working lives around our home, and now work together as much as possible."
DANCE TUITION
Which brings us to their spacious studio created in their new extension. The super-toned couple, who are both 40 years old, not only hone their personal fitness in this light-filled space, they also plan to teach youngsters and adults how to discover their inner dancefloor diva here through classes at their Kimberly Wyatt Dance Academy. Dur ing the pandemi c 's lockdown, Kimberly, who was 14 when she won a scholarship to study at New York's renowned Joffrey Ballet and the Broadway Dance Center, treated fans to bite-size dance classes on YouTube, and when Max, a Pilates and bodyweight-training coach, joined her, it was the first time the couple had worked together on camera. This formula proved a hit and they are now busy with two exciting projects: their dance academy and a podcast called The Fame Game, which launches on 27 October. The show aims to be a guidebook for would-be fameseekers on how to navigate through the various perks and trappings of red carpets, paparazzi, and how to look famous.
RAISE YOUR INTEREST RATE
"We live in a world where fame seems to be a barometer for success and a goal for so many people," says Kimberly. "But our advice to listeners is to focus on their talent, rather than achieving fame, because your talent is ultimately what makes you interesting enough to become famous – or not." Max, who has walked many haute couture runways and whose chiselled features have graced the covers of glossy magazines, adds: "We've both travelled the world throughout our careers, so during our podcast Kim and I will share the highlights and most memorable anecdotes of our lives. "Although I loved every minute that modelling brought me, the pandemic taught me that what I enjoy most is being at home with my wife and kids."
Sharing their fitness philosophies at their dance studio is a dream come true for Kimberly, too, and it is her aim to inspire other budding dancers, beginning in her own communi ty and expanding throughout the UK. "When you find something you feel passionate about and that fire burns brightly, you can't deny it," says the former judge of the hit Sky1 show Got to Dance and CBBC's Taking the Next Step, who reached the finals of ITV's Dancing on Ice earlier this year.
"We need to have a belief in ourself to make it happen. So as a mum and a teacher, I encourage people to find what they're passionate about. Life is better when you have a purpose. "When I go into a studio with children and young people, it's my purpose to inspire them. We're performing a Christmas show at the local community centre and have asked the audience to bring canned goods for a charity for those less fortunate. It's important to show kids that you can use your talent to help others." An ambassador for the Youth Sport Trus t , an independent charity that aims to improve young people's lives through sport, Kimberly is committed to making a positive difference to children suffering from anxiety and mental health issues. "Through the trust I met neuros c i ent i s t Ba rone s s Greenfield and learnt so much from her insightful studies in how the mind works," she says. "It came as a shock to learn that between the ages of six and eight, children have already decided how they feel about their bodies. Since the arrival of social media, there's been a decline in the way they see themselves when they look in the mirror and we've reached a tipping point we can't ignore.
"As a dance teacher, I intend to plant positive seeds of growth with my students, to encourage and inspire them, and make them feel good about themselves. Dance is a healing way to channel emotions, and I'd also like to see it on the curriculum in schools."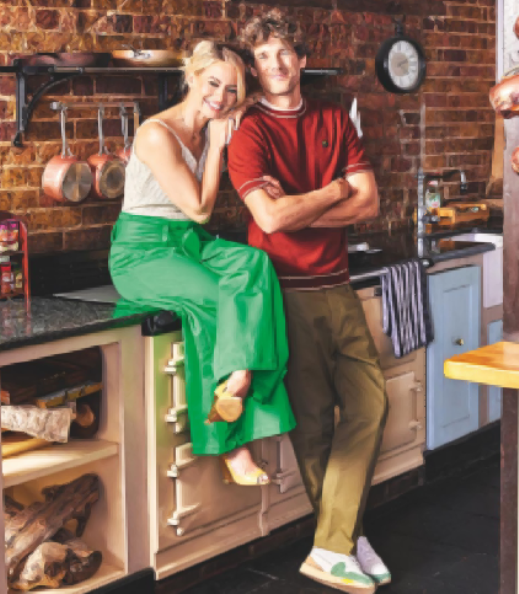 BEAUTY WITHIN
The irony of building his career in an industry that is based on aesthetics isn't lost on Max, but he says that what he has learnt contradicts the constant pursuit of physical perfection. "There's always going to be someone better-looking, so it's pointless to hanker after what you don't have," he says. "The important thing to remember is that it's not your appearance that will make you happy, it's what you can do with your body that will fill you with a sense of achievement." However, Kimberly, who shot to fame in 2005 as a member of the Grammynominated Pussycat Dolls, one of the bestselling girl groups of all time, understands only too well how it feels to descend into a spiral of negativity.
"I'd always wanted to become a mom," says the singer, whose sizzling hits such as Don't Cha and Stickwitu brought the group multi-platinum success. "But with that came physical and emotional changes. As well as losing a sense of who I was as I put my children's needs first, my face became bloated and I didn't want to look at myself in the mirror any more.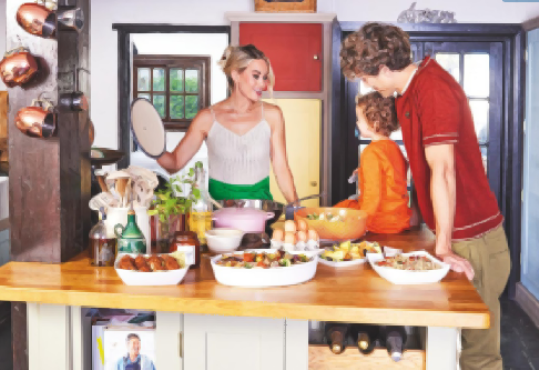 "It's only fairly recently that I've started to enjoy my appearance again," she says. It's at home with Max, whom Kimberly describes as her "rock", that she is experiencing their ultimate dream: a sustainable lifestyle at home with their three young children.
BONDING WITH NATURE
Af ter growing up surrounded by countryside in Missouri, the devoted mum is keen to ensure her youngsters feel connected to nature, too. "My grandparents grew their own food and we try to replicate that as much as possible," she says. "We have a raised area outside where we plant tomatoes, peppers and herbs, and use them when we cook. It was hard getting the kids to eat tomatoes but when they grew them from seed, they wanted to taste them." With a proud smile, little Senna smiles and says: "I love seeds."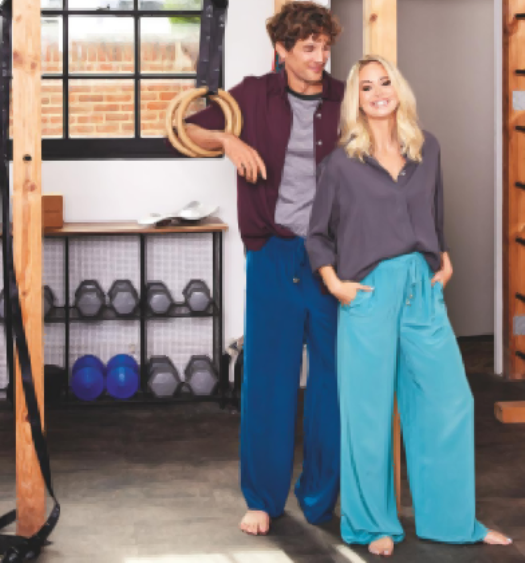 Max adds: "Cooking is a family event for us. We love involving the kids and created a fun game where Kim and Maple competed against Willow and me to make different dishes in our kitchen." A family recipe from Kimberly's childhood is a firm favourite. "My mum was very poor and raised on food stamps," she says. "But she taught us how to make a special noodle, which I now prepare with my kids. They love rolling out the pasta and cooking it in a broth, which tastes delicious. "It's important to love what you eat," adds Kimberly, who along with Max is mindful of climate change and sustainable fashion. "We have three kids looking up to us, so I want to leave the world in a better place for them."
MINI TALENTS
Their little ones certainly seem to have inherited their parents' skills. Budding fashionista Willow, whose name was suggested by The Jump presenter Davina McCall after Kimberly starred in the show, loves fashion and has accompanied her dad to modelling assignments – and featured in some, too. "When she sat next to me in the make-up chair, I couldn't have been prouder," says Max. "As we drove away, she said: 'Dad, that was the best day of my life.'"
Twirling around in a pink dress, Maple is already showing signs of following in her mum's footsteps. "She has such flexibility," smiles Kimberly. "When I was tucking her into bed one night, she said: 'I want to be the best dancer in the family.' It made my heart melt." As busy parents juggling their children's lives and their own careers, she and Max keep a chart on the Time Tree app so that they can plan ahead. "Each day is a spectrum of emotions, but I wouldn't have it any other way," says Kimberly. "I love my career but want to be there for the bedtime stories and the school run." The love and harmony between the couple – who met at a fashion show in 2011 – is tangible. "What attracted me to Kim is how much she inspires me," says Max. "She has a great work ethic and is a wonderful mother. I love coming home and sharing stories of my day with her." 0 so much, " remember s Kimberly. "He put his arm around me as we walked down the street and I felt so safe. To this day he's loyal and caring and the most amazing dad to our children. I love the life we have."