Read Time:
4 Minute, 44 Second
GOING FOR GOLD AS SHE TURNS MODEL IN THE GLOUCESTERSHIRE COUNTRYSIDE ZARA TINDALL ON HER LOVE OF THE OUTDOORS AND HER FAMILY ROLE MODELS
Strolling with her beloved dogs Pepper and Blink in the grounds of her home in the Gloucestershire countryside, Zara Tindall glows with contentment. The Olympic equestrian, daughter of the Princess Royal, is never happier than when she's in the great outdoors, especially when she's surrounded by her husband Mike and their three children. "I'm happiest properly at home or with the family, obviously, or travelling," Zara, 41, says as she opens up about her family life, childhood and her "role model" mother in a new interview, after sailing brand Musto, with which she has a 15-year association, announced her as the face of its autumn/winter lifestyle campaign. "I'm happy travelling with the kids and Mike and exploring the world. If I've got something planned it would definitely be outside, either riding or doing some kind of activity like a trip away to Devon or Scotland, where you kind of make sure you're outside the whole time – and they don't see a phone or an iPad for the whole day and then they can just crash in the evening."
CLASS OF THE FIELD
Life certainly offers plenty of activity for the Tindall children – Mia, eight, Lena, four, and 19-month-old Lucas – who, with their father, retired England rugby union star Mike, are Zara's biggest cheerleaders as she competes in equestrian events.
Zara was a regular fixture over the summer at horse trials around the country, where her energetic children were frequently seen on the sidelines. Having won an Olympic silver medal at London 2012 as part of the British eventing team, the former world and European champion didn't qualify for Rio 2016 and had recently given birth when the postponed Tokyo Olympics took place in 2021.
Now, friends say she would love to fulfil her dream of finally winning gold when the next Olympics take place in Paris in 2024. Riding is a passion in Zara's family: both her mother Princess Anne and her father, Captain Mark Phillips, were Olympians, and her grandmother the Queen was an accomplished horsewoman and racehorse breeder. "My role model is my mother, I would say," Zara continues as she recalls how her parents introduced her and her brother Peter Phillips to riding and instilled a love of adventure. "I definitely remember having a lot of fun and being able to experience a lot of things, and I'm very lucky that my parents were able to do that for us, whatever they were involved in, whether it was the horses or sailing or travelling or the people we met along the way. I was very lucky to meet incredible people, which then you learn more from as you go along through life."
MAKING HER OWN WAY
Having decided that her children would not have royal titles and would make their own way in life, Anne also instilled a strong work ethic. And, like her daughter, she is a fan of British heritage brand Musto.
"Musto has always been part of my mother's life and she has handed it down to us," Zara says in the video to launch the campaign, as she models some of the brand's coats. Meanwhile Mike, who celebrated his 44th birthday last week, is also keeping busy. As well as hosting his podcast The Good, The Bad and The Rugby, he is reportedly heading to the Australian jungle next month for ITV's I'm a Celebrity… Get Me Out of Here!.
POIGNANT MEMORIES
Mike, who married Zara in 2011, also spoke recently of the couple's grief following the death of the Queen, with whom he shared a warm relationship.
"You know it's going to happen but you're never ready," he said. "I'm not even a direct family member… but watching what my wife, what Zara had to go through, obviously she loved the Queen beyond everything else. Their connection with horses, the same with the Princess Royal – they had a real sort of bond around that."
Speaking on his podcast, Mike, who attended the funeral and other ceremonial events with his wife and the rest of the family, added that it was "amazing" to see the royal family "come so close together overnight". And he revealed he regrets not asking Her Majesty more questions about her life and experiences while he had a chance and admitted "having nervousness when you get that lucky seat of being sat next to her".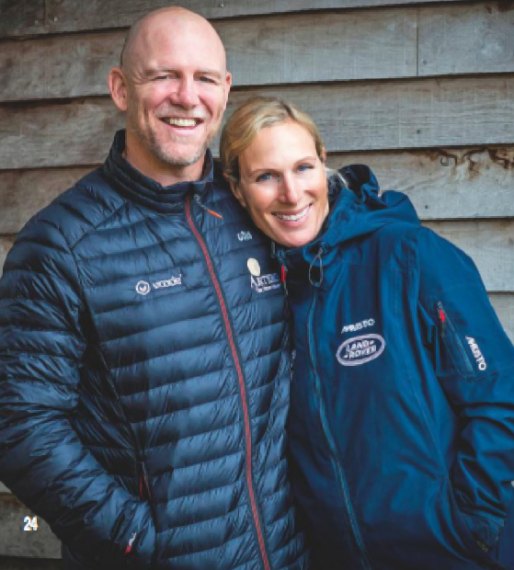 Zara, who together with her royal cousins stood guard around her grandmother's coffin in a poignant vigil ahead of last month's funeral, also tells of her hopes for her own legacy. "I guess I want to be remembered for being hard-working and respectful and loyal and a good mum, with quite a bit of success in there," she says while posing for these pictures in the grounds of Gatcombe Park, where she lives with Mike and their three children. "And to be remembered for influencing the younger generations as well. I think that would be great."