Read Time:
10 Minute, 54 Second
It started as a simple case of an ingrowing toenail. It ended with four men involved in a doorstep killing…
IT'S A nuisance. It's just bothersome," said Mrs. Bonnie Lee. She had removed a stocking in the doctor's surgery to reveal an agonising toenail. Dr. Thomas Shock, a leading podiatrist in the state of California, leaned forward to peer at the offending member. He had seen many like it before. A routine ailment – he would soon have it under control and cured. The treatment the doctor envisaged was straightforward and uncomplicated. In fact, for Mrs. Bonnie Lee, it turned out to be a nightmare. A day after her visit Dr. Shock removed the offending toenail and wrote out a prescription for tablets. "Take these," he said soothingly. "It will soon be better." A week later the toe was still red and swollen and still leaking fluid. Disgruntled, Mrs. Lee went back to see the doctor. After another examination he said, "I think you should pay a visit to the emergency department at the local hospital."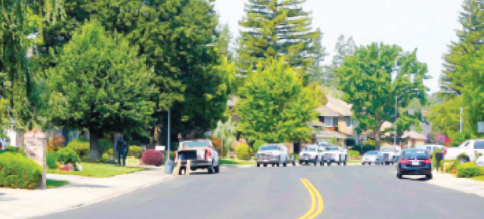 At the hospital a couple of doctors took a long look at the surgical wound. "It doesn't really merit admission," one of them opined. The other agreed and prescribed a course of treatment.Another week passed. Now the toe was looking worse than ever. Once again Mrs. Lee went back to see Dr. Shock. The doctor pursed his lips. He could see that the wound was still as swollen as ever and the toe was now cold, indicating a lack of blood supply to that area.
During the next month he gave his vexed patient several injections and a course of antibiotics along with prescriptions for strong painkillers. He also gave her local anaesthetic blocks to improve her blood circulation. He did this without first taking cultures, which was an extreme departure from the expected standard of care.
None of this seemed to do any good. Finally Mrs. Lee said, "I want to go into hospital. I think doctors there should examine this injury thoroughly." In the hospital medics settled on drastic action. They assessed that the skin flap covering the removal of the nail was necrotic and to stop the infection spreading further up her foot and into her leg they decided on a trans-metatarsal amputation. In plain terms, that meant that half of her foot had to be surgically removed. The unfortunate Mrs. Lee had now come a long way from having an ingrowing toenail to becoming a permanent cripple. But this being California, where even top doctors can be sued for huge sums of money, reaction was swift. The State Medical Board was called in and it determined that Dr. Shock had missed several warning signs about the deterioration of the foot. The Board also found that he was responsible for repeated acts of negligence amounting to unprofessional conduct. His licence to practise was suspended. The damage this did to his reputation and the disruption to his life was devastating; Dr. Shock's career had truly hit the buffers.
Not all was gloom and doom. The licence would in due course have been returned to him, but Shock decided he had had enough. He was now 67; he was contemplating retirement anyway and in June 2018 he decided to quit his practice for an easier life. He would now spend his declining years travelling with his wife, watching his grandchildren grow up and cycling several miles a day to keep fit. Meanwhile, the case against him was closed by the Medical Board. He had been disciplined but not disqualified. All that was now left of the treatment was the trauma that Mrs. Bonnie Lee had suffered. No one in their worst nightmare could imagine that going to an experienced, respected podiatrist for such a simple problem as an ingrowing toenail would lead to a partial foot amputation. The trauma took its toll; in 2016 when she was 73 Bonnie Lee died from an infection of her foot.
While no one could specifically determine that her death was related to Dr. Shock's botched treatment, there was one person who was in no doubt. This was her husband, Robert Elmo Lee, 79. He placed the blame squarely on the podiatrist. Lee was bitter about the way things had turned out.He was bitter about the botched treatment his wife had received; bitter about the way he thought Dr. Stock had got away with it to an easy life of retirement.
The Lees had had a good life. Married for 56 years they had two children, six grandchildren and four great-grandchildren. Now what remained of Robert Lee's life was in tatters. From the outset he never forgave the man who in his mind had destroyed and then ended the life of the woman he loved and lived with for over half a century. So it might have been thought that he felt at least partially revenged when on August 1st, 2018, Dr. Shock was murdered on the doorstep of his luxury home in Rivergate Drive, Lodi, California.
That August day was hot and sultry. Shock did some maintenance work at his rental properties before picking up one of his grandsons from summer camp and returning him to his daughter's house. After that he went home, had a nap and then went out with his wife Nancy for a steak dinner.
Back home after the meal they relaxed on their patio for half an hour before Nancy went up to their bedroom. She turned on the fan and dozed off while listening to the radio. Downstairs there was a knock at the front door. Dr. Shock went to open it and was confronted by a man holding a gun straight at him. The gunman opened fire from point-blank range, killing the doctor instantly. As Shock slumped in his porch the killer ran to a getaway car that was driven off. A neighbour who heard the gunshots called the police. They found Shock's body in the porch covered in his own blood. He had bullet wounds to his chest, head and arms.
There had been a spate of robberies in the upscale, urban area in recent weeks and detectives first thought this could have been an armed robbery gone wrong. A resident told police they had seen a cream or beige-coloured station wagon with no lights cruising through the area. Officers put up roadblocks in search of such a vehicle, but to no avail. As the investigation got under way, detectives decided this must be a targeted killing rather than a botched robbery. But who would want to kill an eminent elderly doctor in cold blood, they wondered? The answer was swiftly forthcoming. Beside the doctor's body investigators found a piece of paper that proved to be a vital clue. This was a page from a Medical Board of California document. It concerned an accusation made in 2014 of gross negligence by the doctor in the care of one of his patients – a patient named Mrs. Bonnie Lee. Detective Michael Hitchcock, in charge of the murder investigation, was still trying to figure out the significance of the page from the medical document when he received a phone call from a long-time friend of Robert Lee.
The friend told Hitchcock that Lee had talked to him several times about his wife's death and how he blamed her podiatrist for it. Far from forgiving Shock or trying to move on with his life, the friend said, the anger and frustration that Lee had against Dr. Shock had only festered inside him, becoming worse and worse. One of Robert Lee's long-time neighbours, Mario Vanotti, told the local newspaper: "His wife was his soul mate. He was entirely devoted to her. He never got over what happened to her and after her death he would visit her grave every day to lay fresh flowers."
Was it possible that the bereaved husband Robert Lee was involved in Dr. Shock's murder? No one could say for sure, but nor could they think of anyone who had a greater grievance against the doctor. The telling phrase came when the informant friend told Detective Hitchcock: "When Robert Lee heard that Shock had retired and sold his practice to live a comfortable retirement with his wife and family, that was the last straw. He was so angry that Dr. Shock was living out his life in such a way while he was mourning his own wife every day." Acting on a hunch, Detective Hitchcock called Robert Lee to the police station. "Did you have anything to do with Dr. Shock's death?" he asked him point-blank. Lee shook his head vigorously. "But I'm not going to shed a tear over him," he replied. "He got what he deserved. I didn't like the man and I'm happy he's dead." Detective Hitchcock gave the old pensioner a mile-long stare. It was difficult to conceive how this old man could have killed Dr. Shock, but at least he had a motive.
The officer looked into Lee's background. He came to the conclusion that somehow or other the bereaved husband, now aged 83, was involved in the murder. "I think he became enraged when Dr. Shock announced he was retiring and no longer running his podiatry practice," Hitchcock said later. "It didn't help when the local newspaper eulogised about the doctor's years of service to the community." The police obtained a search warrant and on September 20th, 2020, they found other pages of the Medical Board's report downloaded in Lee's home. They also discovered that on the day before the doctor was murdered Lee took out a $5,000 loan in cash.
As the investigation widened other suspects were drawn into the net. The fingerprint lab in Sacramento discovered a single thumbprint on the bottom corner of the page left in Dr. Shock's porch. The thumbprint matched that of 26-year-old Christopher Costello. Costello, detectives discovered, was in league with two other men, Mallory Stewart, 25, and Raymond Jacquett, 24. All three, it was surmised, were hired by Lee to kill Dr. Shock.
Six weeks after the doctor's murder the trio were arrested on suspicion of murder, along with Lee. The prosecution added a special circumstance of "murder by lying in wait," and in the case of Costello, Stewart and Jacquett, murder for financial gain. Mallory faced additional charges through having a strike against his criminal record for a past conviction for attempted robbery and for being a felon in possession of a firearm.
The prosecution claimed that after the angry husband Robert Lee decided to kill Dr. Shock he was introduced by Costello to Stewart and Jacquett. It was unclear how Lee had found Costello, but it was clear that Costello was offered money to put together a team of hit-men. Mobile phone records showed that Lee and Costello had been in contact several times in the days before Dr. Shock was murdered. At the initial hearing in a preliminary court Raymond Jacquett was the first to break ranks. Exercising his rights for a speedy trial, he was found guilty of seconddegree murder for being the driver of the getaway car. In July 2019 he was sentenced to 15 years to life.
Jacquett had also faced the special circumstance of murder for financial gain, but the jury came back with a verdict of "not true" for this charge. This saved him from being convicted of first-degree murder. In early 2022 Mallory Stewart, who fired the bullets that killed Dr. Shock, pleaded guilty to first-degree murder. Christopher Costello was also found guilty of his role in the murder-for-hire scheme. Both men were given life sentences.
In March 2022 the last of the defendants, the ageing Robert Lee, who had orchestrated the plot, was found guilty of a special circumstance of murder for financial gain. A life sentence will mean that he will certainly die behind bars.
District Attorney Tori Salazar said in a statement after the hearing: "The conclusion of this case sends a clear message that my office will hold those who harm members of our community accountable to the full extent of the law. The legal process may have taken three years but the priorities were to bring justice to Dr. Shock and his family and to punish the perpetrators of this evil, premeditated crime. "I have no sympathy for Robert Lee. His wife may have been the victim of a terrible medical malpractice, but to murder Dr. Shock after he announced his retirement years later showed how he allowed his hatred to fester into murder through weeks of planning.