Read Time:
10 Minute, 33 Second
SHARING THEIR BEAUTIFUL BARBADOS WEDDING ALBUM ,JAY BLADES AND LISA ZBOZEN ,THE 'REPAIR SHOP' STAR AND HIS BRIDE REVEAL THE DETAILS OF THEIR BIG DAY
It was always going to be a wedding with a difference when Jay Blades exchanged vows with Lisa Zbozen. The TV presenter took to his role as groom with the same calm, laidback demeanour that has endeared him to so many on his hit BBC1 show The Repair Shop. "One word sums up the day: perfect. We had our closest family there, the weather held out and everything worked out so well," says Jay, as the couple reveal in OKUK that they have married, exclusively sharing the first photographs from their beautiful and intimate Caribbean wedding ceremony. "Once you get to a certain age, you real i se what 's actual ly important on the day – and that is having the people around you that love you for who you are," fitness trainer Lisa says. "So we made the day our day."
THE KING AND JAY
The wedding caps a remarkable 2022 for furniture restorer Jay, 52, who was invested with his MBE this year by the King – then Prince of Wales. The royal also appeared with Jay in a special episode of The Repair Shop in October. Talking to OKUK from the beautiful five-bedroom beachfront Onyx villa in Barbados where they exchanged their vows on 22 November, the new Mr and Mrs Blades are full of happiness. In fact, Jay – who, Lisa says, rarely cries – tells us how he shed a tear during the ceremony. "The thing that was most emotional for me was actually saying the vows," he says. "It was almost like I had tunnel vision and I could only see Lisa there. And honestly, that's when it hit me. I was like: 'We're really getting married now.' That's the only time I really got emotional."
The couple, who got engaged in November 2021, after a one-year romance, were so relaxed that they didn't have decorations for their afternoon service and simply booked a big table at a nearby restaurant for their postceremony celebration.
Lisa opted to go barefoot underneath her wedding dress and the best man was only informed he had got the job ten minutes before the nuptials began. Jay says: "We were getting married at four o'clock and the guests arrived at 2pm. I didn't have a shower until 3.30pm as I was making sure everybody was all right and having a good time."
The couple at first wanted to get married in the UK, but a huge guest list meant they couldn't find a venue big enough. Barbados was an obvious option for a smaller event. "My mother Barbara lives in Barbados so rather than bring her over, we came to her," Jay says. "The island is very dear to me; it's a place where I feel comfortable and can get away from everything." They jetted out ahead of their guests, who they welcomed for a few days of relaxation before the nuptials took place in the same villa where Jay proposed to Lisa.
On the day of the wedding itself, the pair – who bucked tradition and declined to spend their last night apart – spent the morning at the gym before eating a casual breakfast and a trip to the barbers for Jay. Both are fans of the less-is-more approach, with Lisa, 42, opting for minimal make-up and an effortless up-do to let her elegant silk wedding gown take the spotlight. After initially planning to wear a simple slip-style creation, she changed her mind and ended up at Romantic Dreams Bridal in Birmingham, where she fell in love with the Adriana silk dress.
Featuring a deep V-neck bodice, the gown had a wide train and a low back decorated with a bow. A veil and yellow and white bouquet completed her look.
"My friend said you'll know instantly when you put the right dress on," Lisa says. "When I tried this dress on, even though I thought it was way too oversized for our ceremony, I just thought: 'This is it. This is the one.'"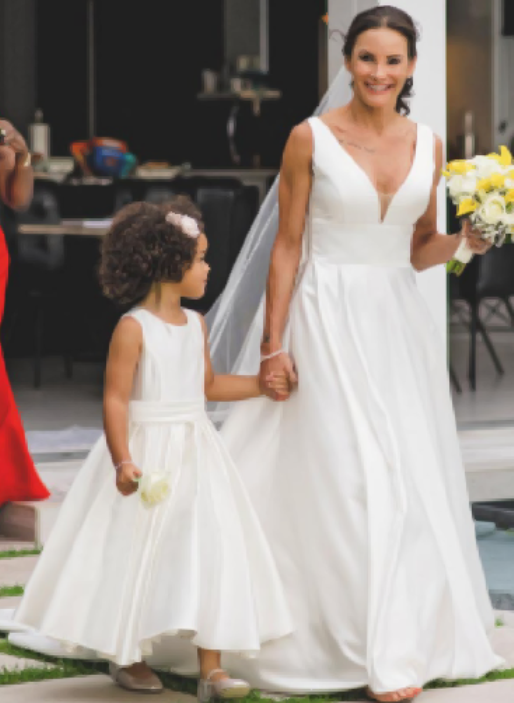 Jay wore a black linen suit from Isabel Benenato with cropped trousers, a white shirt and a yellow boutonnière to match his bride's bouquet. He wore his usual darkrimmed glasses, but opted to go without his trademark flat cap. About 15 people were invited to celebrate the wedding, including the woman Jay refers to as his second mother, Thelma Dunlop, along with her husband Cass Burnett – the only man Jay has ever regarded as a father figure after his birth dad abandoned him as a baby. Thelma and Cass, together with their son Gerald Bailey, helped Jay – who only learnt to read at the age of 51 – get back on his feet after the end of his first marriage and the collapse of his charity Out of the Dark led to a breakdown and period of homelessness in 2015.
TWICE AS MUCH LOVE
"When I fell down seven years ago, Thelma looked after me and she still does to this day. She and my mother get on really well. They met each other on my 50th birthday and my mum thanked my second mum for looking after me."
Jay's three children were unable to attend due to school and other commitments, so the couple had only Gerald's five-year-old daughter Beaux as bridesmaid. Her dad was best man. "I gave him the rings and he said: 'What's these?'" says Jay. "I said: 'Well, you have to give them to me when we get married.' And that was that.
At 4pm, the ceremony began, with Jay taking his place next to the Rev. Wayne Kirton on the grass outside the house. As Lisa took her first steps towards him, with Beaux by her side, the groom was glad he had kept his promise not to sneak a peek of his bride in her dress.
"When I first saw her, I thought: 'Wow.' I hadn't seen the dress and it was just perfection. She looked so classy and beautiful."
The bride, meanwhile, was struggling to keep her emotions in check after speaking on video to her close group of best girlfriends and FaceTiming with her father and sister, who were unable to travel to Barbados because of her dad's declining health.
"I turned the cameras on and instantly my sister started crying and then they all did," remembers Lisa. "I was thinking: 'Please don't cry,' as I had all this make-up on. But then, when I saw Jay, I instantly felt calm and thought: 'I'm okay. Jay's here, everything's good.'"
The perfectly matched pair – who have both been married before – met when Jay contacted Lisa on social media. Initially unimpressed, she gave him 30 days to woo her. But they soon connected and within weeks Lisa took an impromptu drive to meet him. "I went home and I said to my friends: 'Honestly, I think I'm going to marry that man,'" Lisa says. "Even though I never wanted to get married again."
WRITTEN IN THE STARS
Her premonition came true two years later, when they exchanged unique gold rings made by Jay's The Repair Shop co-star, jeweller Richard Talman. Based on the Egyptian style of an imperfect circle, they both contain the couple's birthstones on the inside. Lisa's thumbprint is stamped inside Jay's ring, while he chose to inscribe the name of her late mother Patricia inside his bride's band.
"I really don't want a perfect wedding ring because I think nothing is perfect," Lisa says. "It's also more individual and has got a lot more care and love thought into it."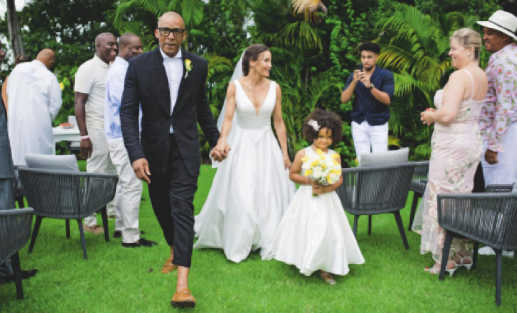 Jay adds: "We wanted the wedding rings to represent an Egyptian-style ring, which is a little bit rough, so it's not perfect – like a marriage, which can be imperfect, but you're willing to work at it." After being pronounced man and wife, the couple and the wedding party retreated to the beach for photographs before cutting the cake, which was lovingly made by Barbara. "It's traditional, especially in the Caribbean, that a family member makes the cake. It was three different tiers of cake that I love, including Victoria sponge and black cake," Jay says.
TEA FOR TWO
By 6pm, the wedding party had decamped to the famous Barbadian restaurant Lone Star for a postwedding meal. First on the menu was a cup of tea for the happy newlyweds, who sat with their friends at a table in the middle of the room and ordered off the menu. Jay and Lisa opted for shrimps followed by sea bass, although – as is the Caribbean way – everyone shared their dishes. Before the food was served, all the men delivered impromptu speeches about the day, with Jay's words focusing on his love for Lisa. "I said that she is perfect for me and that we've had our trials and tribulations, but we always work towards a future with each other. I did get a bit emotional."
After midnight, the couple returned to their villa and reflected on their special day. Their guests stayed on the island for six more days, after which the new Mr and Mrs Blades – Lisa will change her name – enjoyed a seven-day honeymoon in the villa alone. They plan to celebrate with the rest of their family and friends at some point in 2023, with The Repair Shop team top of the list. "The crew and all the experts sent us a beautiful video saying congratulations," Jay says. "They will definitely be at our other party – they love to dance, especially Suzie [Fletcher, the show's leather and saddles expert]. She cannot wait to get on that dancefloor."
While his TV co-stars were let in on the fact that the nuptials were happening, Jay smiles as he says "no comment" when asked if he discussed the wedding with the then Prince Charles during the filming of the special episode of the show, which took place before the death of the Queen. But he does say that he hopes he and the King – who presented him with his MBE at Windsor Castle – will work together again.
"It would be nice, but I think he has a lot more responsibilities and commitments than he had when he was the Prince of Wales. But as I said to him on the show: "Don't be a stranger," and I don't think he wants to be a stranger. He loves heritage crafts. That's what I love and we're trying to just make sure it's more accessible to everybody. I was very relaxed with him. We just met as two people chatting."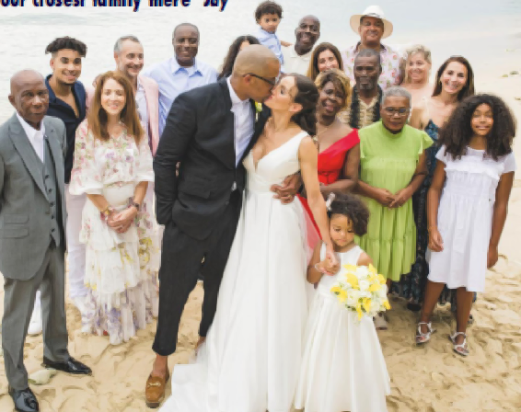 Sometimes, he says, he has to pinch himself when he thinks of how far his career has taken him and it's Lisa who grounds him if she hears him on the phone to Sir David Jason or he receives a message from Dame Judi Dench. "You need someone that's going to support you in what you're trying to achieve. A lot of the stuff that's happening to me now, with regards to filming and the people I'm being connected to, can be overwhelming and if you haven't got someone to say: 'Okay, I'm here for you,' then it can take you away with the fairies. Even a year ago, I would never believe that I am in communication with certain individuals. It blows my mind sometimes because I still see myself as Jay the community worker."
Now, as he looks ahead to his new life with Lisa, he tells us: "Marriage to me is a commitment, it's something you need to work at. Being able to not constantly look for perfection, but understand you're going to have bumps along the way – and overcome those by holding, kissing and listening together."