Read Time:
10 Minute, 9 Second
PROUDLY INTRODUCING HER BELOVED BABY BOY IN FESTIVE NEW YORK JOSS STONE UNVEILS HER CHRISTMAS ALBUM AND FUTURE FAMILY PLANS.
With the New York skyline as a stunning backdrop, Joss Stone is in her element as she celebrates the most magical time of the year. While she revels in her own greatest gift – a second child – she also has a present for her millions of fans this Christmas with the release of her first festive album. Snuggling up to little Shackleton – already affectionately known as Shack – who was born in Nashville, Tennessee, on 18 October after a traumatic birth, her joy radiates in our exclusive photoshoot. There's no hint of exhaustion despite dramatic complications during labour that saw Joss undergoing an emergency Caesarean. In fact, she's glad to be back doing the day job – where Shack's 22-month-old big sister Violet is joining in as the photos are set up. "It's fun if your work involves a trip to NYC," she beams. "It's tiring but worth it – and having to glam up is a nice change from hoodies and joggers."
GIVING THANKS
The Tell Me 'Bout It singer was in New York to sing for the estimated 3.5 million people who watch the Macy's Thanksgiving Parade – and flying with partner Cody DaLuz from their Nashville home was more of a challenge than usual. "Travelling with kids is only good if you're prepared," she says with a laugh. "Four hands are better than two; I wouldn't want to try it on my own. Cody is a great dad and Peggy, Cody's mum, is with us from Rhode Island lending a hand while I am working – as two is a lot more than one."
The main reason Joss is back at work so soon after giving birth is the release of her Christmas album, Merry Christmas, Love. She was approached to record it in February and she jumped at the chance – with one slight hesitation.
"When I was asked about it, I said I'd love to but I'm having a baby in October so maybe we should do it another time, because I was worried the baby would be late," explains Joss, 35, who found fame after winning the BBC talent show Star for a Night aged just 13 and went on to have a multiplatinum debut album with The Soul Sessions in 2003, and to win Brit and Grammy awards. " I 've wanted to do a Christmas album for years because I love this time of year, but I've never been in a position to do it the way I want. If you're going to have a live orchestra and choir, you need the right room to record it in with the right mix engineer. Everything had to align."
JOY TO THE WORLD
Being in Nashville, everything was available to Joss musically and the result is a host of festive classics including Winter Wonderland and Silent Night, plus two original tracks. "I tried to make it as classy, Christmassy and magical as I could," she says. "I wanted it to be like the old Frank Sinatra Christmas records, or Dean Martin and Bing Crosby… what I like listening to.
"It wasn't as simple as my more soulful records, which came from jams at night with my mates in Devon. Rather than singing harmonies from memory, which I normally do with my backing singers, everything was written down so it worked perfectly. It was a different world."
The first single is a cover of Stevie Wonder's What Christmas Means to Me. "We've met a few times, and every now and then we'll talk on the phone," says Joss, who has also performed with singers including James Brown and Sir Tom Jones as well as Motown legend Stevie. "He's the sweetest guy in the world. I wanted to talk to him before I recorded the song to ask his opinion and permission. I left him a voicemail… I hope he likes it. "I really tried not to make it sound too R&B, which is what I've been doing for a long time. Maybe Stevie will give me a call and say: 'Joss, why did you do that? That's completely wrong!' I'll hopefully see him around when we're touring." Just as she was when she won The Masked Singer last year dressed as a sausage, Joss was five months pregnant when she recorded the album, which had a big effect on her voice.
"You have a hormone going through your body that relaxes your muscles," she explains. "Which is hard because your voice is a muscle and when you're pregnant, you can't use it like you usually do. "I was singing gospel music in the car on the way to hospital to have Shackleton and my voice wasn't working. It was almost like I was a person that couldn't sing. So that was a challenge, but I loved it."
HOSPITAL DRAMA
The birth didn't go as Joss and Cody had planned. Joss's uterus split during labour; she'd been warned by her doctor that there was a small chance of that happening because she'd had a Caesarean with Violet. For a gruelling 20 minutes, Cody faced the traumatic prospect of being left a single dad.
"I handed it over to the doctors and thank God for them," says Joss. "Because otherwise I'd be done. There'd be no more Christmas records from me. When Shackleton's heart rate started dropping, they had 14 minutes to get the baby out before it was too late."
Joss went under general anaesthetic for an emergency operation and fortunately both mother and baby were fine. After three days in hospital they were reunited as a family back home. "When we came home from the hospital, Violet was obsessed with her brother," smiles Joss. "She couldn't contain her excitement. And now every morning she'll sit on the sofa and I'll put Shack on her lap so she can hold him and kiss him and say: 'Hi, baby!' As soon as we brought him home, she started talking and I think it's because she's thinking: 'The baby's cute, but I'm amazing. Listen to me talk!' "She knows all the Christmas songs because she's been singing them with me. When I sing Jingle Bells she does the 'hey', which is so cute."
TRANSATLANTIC CHRISTMAS
Christmas will be spent in Rhode Island with Cody's family this year and Joss's sister Lucy and her family will be travelling over from England to be with them. "It's a great place to have Christmas because there's loads of old buildings and it's just really quaint and really cute, and the oldest pub in America is there," says Joss. "It's a really cool place to have Christmas and it'll be cold, you know, it might even snow. I think it's going to be great. And we're going to have an Airbnb so we can cook, we can make Christmas dinner. So I make this pastry that looks like a fish with seven root vegetables in it. It's a new tradition and Cody has other traditions that we'll add to it. "His mum, dad and sister are Roman Catholic and they make a birthday cake for Jesus in the morning. It's so adorable, I love it."
Next year they plan to move back to Devon to be closer to Joss's family. "When I was seven months pregnant with Violet, the plan was to move home to England to have the baby," explains Joss, who was born in Dover and brought up in Devon with her three siblings. "But I was told she was growth restricted so I had to chill out and not travel.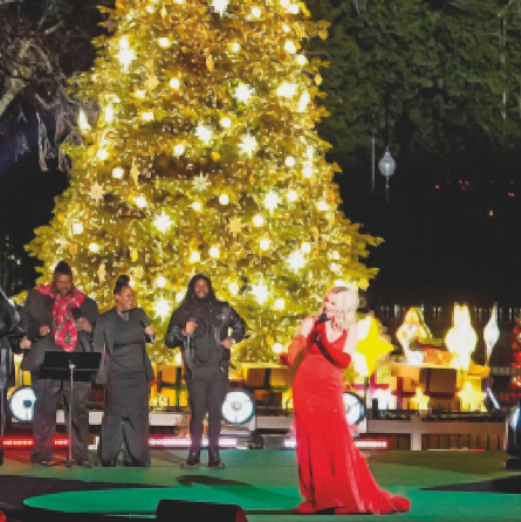 "That's when we moved to Nashville, which we chose because of the music. I work a lot with Eurythmics'Dave Stewart – we've just been working on amusical of The Time Traveller'sWife together.We love it but I think we'll come home at the end of next year, because I need to sort out Violet's schooling. My mum is like: 'You've got to get on it!' "In my dreams, I want us to settle in Devon near family and make some roots. I had a lovely upbringing there and I'd like to give that to Violet and Shack; somewhere they can learn to ride horses, grow vegetables and climb trees.
FAMILY PLANS
"Or we go to Rhode Island because I hate that I'm taking this time away from their grandparents. It's not so much of a change for me because I've been in America on and off since I was 14 – so I'm almost bilingual! "But I think Cody is excited about going to England and seeing what it's like. Fingers crossed he'll love it. But if not, we can always come back." Life has changed since Joss's Total World Tour, when she performed in 204 countries. She met Cody, 33 – who was working in private security at the time – in a chance encounter at Belize Airport on the way back from performing in Antarctica – it's one of the reasons the couple chose Shackleton as a name, after the explorer Ernest Shackleton, who led British expeditions to the icy continent.
The singer's ambitious tour inspired her to set up The Joss Stone Foundation, which aims to help support more than 200 charities globally. It also took her to Lesotho to raise awareness for Prince Harry's charity Sentebale. Joss attended both his and Prince Wi l l iam's weddings after meeting the brothers at a Prince's Trust fundraiser event in 2005.
However, she didn't contact them when the Queen died in September. "I don't have their numbers," she says. "But I found it really sad. I met the Queen a few times so I got to say hi and curtsy. "To me, she was one of the most inspirational women to walk this Earth. I sang God Save the Queen and posted it online for her and felt weird singing it for the last time. It's an end of an era."
WHAT'S NEXT?
There is a tour planned next year, with a date at London's Palladium, hopefully more babies… but no wedding plans yet for Joss and Cody.
"I feel like we're going to be one of those couples that are engaged for 15 years," she says. "When you have kids, you feel married so the wedding thing is just a big party. Maybe we'll do it next year. Touring will be different because you can't be in two places at once, but Shack is so tiny at the moment. Ask me again when they're both toddling about – I have a feeling it may be a bit different. "But I definitely want to have more children. The doctor has said I can have another one but I definitely can't give birth naturally because my uterus split.
"I said: 'What about the other four?'" she says, with a smile – adding, more seriously: "I've always wanted to adopt and Cody was adopted, so he wants to adopt, too. We'll see, but I'd like as many kids as I can."